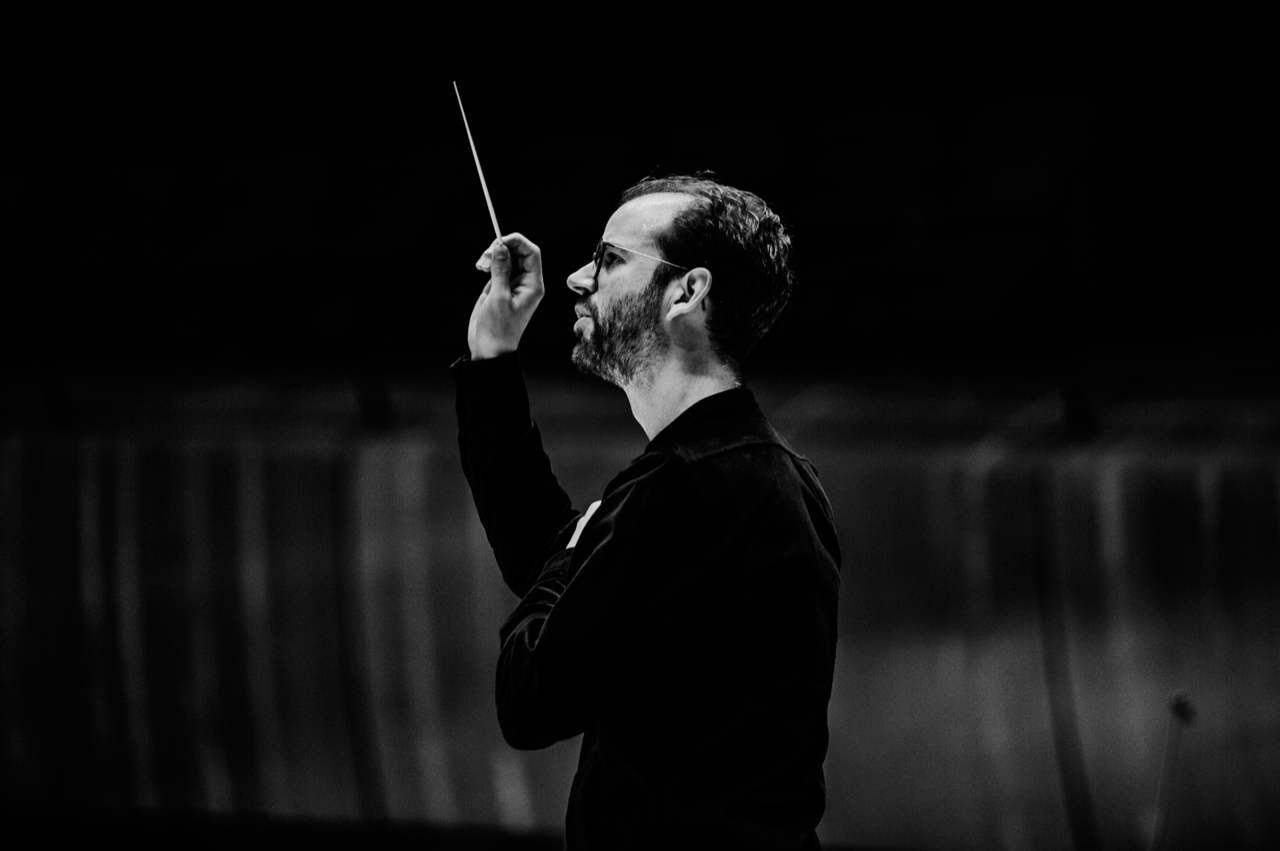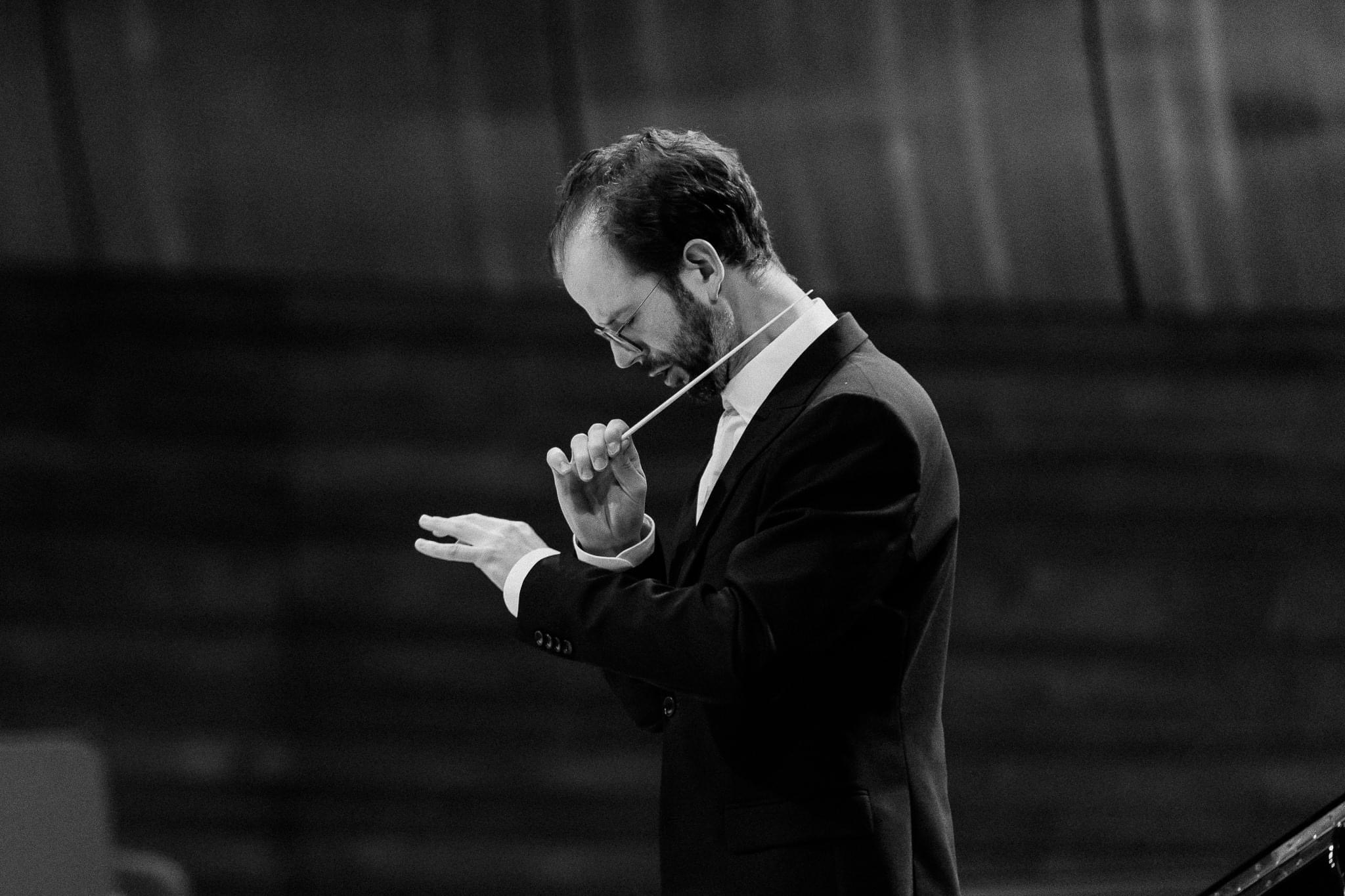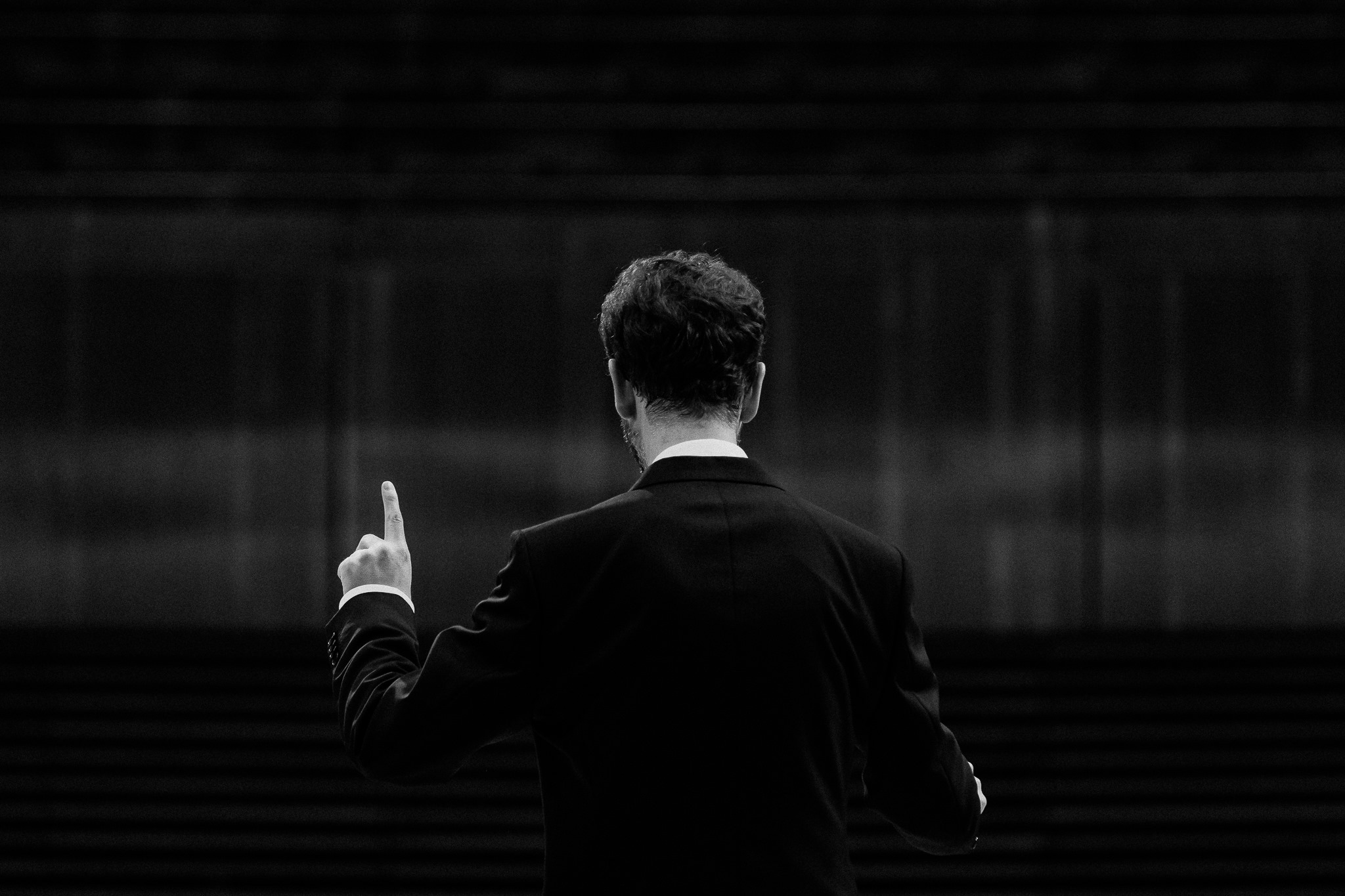 About
Nestor Bayona is Resident Conductor at the National Polish Radio Symphony Orchestra (NOSPR), where he previously served as Assistant Conductor before two seasons at the Opéra de Marseille. He is a regular guest conductor at the Filarmonica Transilvania in Cluj and he made his debuts with the OSPA in Oviedo and the OSV in Barcelona last season.
For his achievements as a conductor, Nestor was awarded the Associate Artist Award of the Royal Northern College Music in 2021.
He has conducted at the Enescu Festival, the Festival La Roque d'Anthéron, among others.
See more
Ópera Actual
En estas dos obras de Manén, las únicas del programa, fue en las que más se lució la Orquestra del Reial Cercle Artístic de Barcelona, fundada en su día por Enric Granados. Dirigida por Néstor Bayona, la formación mostró una sección de cuerdas compacta, buen trabajo de acompañamiento en las canciones y fluido diálogo en el Concertino de Manén.
El Periódico
Néstor Bayona, al mando de la Orquestra del Reial Cercle Artístic de Barcelona, acompañó con buen sentido de concertación la breve e interesante pieza que permite al solista mostrar todo su potencial expresivo; ecléctico, Migó no renuncia a la melodía ni a las sonoridades más actuales.
Revista Musical Catalana
Cal destacar finalment el bon nivell assolit per l'Orquestra del Reial Cercle Artístic i l'important treball del director Néstor Bayona. Enfrontada a obres d'estils i exigències molt diferents, totes absolutament fora del repertori habitual de les orquestres, aquest antic conjunt fundat per Enric Granados l'any 1900 va sonar bé i va ser peça fonamental per aconseguir que el concert fos un èxit.
Luisa Miller re-orchestration
Néstor Bayona succeeds in this challenge. The former assistant conductor of the Opera of Marseille, recalled by Maurice Xiberras takes over the entire orchestration of Giuseppe Verdi and reduces the number of musicians, so that everyone has the required distance, while retaining strength sound and musical coherence with respect for the work of the composer. Reducing the quartet, the winds become one per desk, Néstor Bayona creates a sound balance without disfiguring the orchestral part, preserving the instrument solos and musical inflections, for support and great cohesion in the accompaniments.
Concert at the Philharmonie Berlin
The young musicians master this music brilliantly, but they also have a young conductor in Nestor Bayona who is very attentive to detail, and this comes through in the fine sounds of Franz Berwald's "Remembrance of the Norwegian Alps
Ako sú hodnotené slovenské online kasína s dobrou povesťou
V súčasnosti existuje mnoho online kasín na Slovensku s dobrou reputáciou, ale nie všetky takéto hodnotenia sú hodné pozornosti. To znamená, že na internete môžete nájsť mnoho rôznych rebríčkov a niektoré z nich poskytujú výber dôveryhodných kasín, ktorých povesť bola overená v priebehu rokov. Prvým a jedným z hlavných kritérií pre zaradenie prevádzkovateľa do takéhoto hodnotenia je, aby mal príslušnú licenciu na hazardné hry. Preto náš rebríček zahŕňa len tie kasína, ktoré prevádzkujú licenciu. Už zo zoznamu týchto platforiem naši analytici vyčlenili tie, ktoré majú medzi domácimi hráčmi dobré meno.
V našom rebríčku nie sú žiadne online kasína na Slovensku na https://onlinecasino-sk-24.com/, ktorých povesť je veľmi pochybná. Je to spôsobené prítomnosťou nebezpečenstva pre hráčov, a to:
Nedostatok záruk. V tomto prípade hovoríme o nedostatku záruk, že hráč skutočne dostane svoju zaslúženú výhru. To je údel jednodňových kasín alebo podvodných organizácií, ktoré sa nikdy nedostanú do nášho hodnotenia.
Necertifikované hry. Je dôležité pochopiť, že kasína s nízkou reputáciou umiestniť na stránkach svojich zdrojov hry, ktorých zdroj zostáva neznámy. To vedie k otvorenému podvádzaniu v prospech kasína, ktoré je hlavným dôvodom straty peňazí hráčov.
Možnosti blokovania. Mnohé kasína dnes predpisujú podmienky hry pre používateľa takým spôsobom, že akékoľvek blokovanie nemožno napadnúť.
Ak hráč využíva slovenské online kasíno s dobrou povesťou a hrá v ňom, získava ochranu svojich údajov a peňazí. Odborníci tiež odporúčajú venovať osobitnú pozornosť povesti, pretože dnes je tento bod jedným z hlavných pri posudzovaní práce akejkoľvek inštitúcie na internete.
Polskie kasyno online Lemon Review 2022
Lemon Casino to licencjonowane i regulowane kasyno, które może zapewnić graczom jedne z najbardziej niesamowitych gier online. Mają bogate portfolio, które obejmuje wszystko, od slotów i pokerów wideo po gry stołowe i rozrywkę z krupierami na żywo. Tytuły te są dostarczane w bezpiecznym środowisku i są kompatybilne z urządzeniami mobilnymi, więc można się nimi cieszyć w podróży. Nowi gracze są witani bonusami, a stałe promocje stanowią dla obecnych członków silną zachętę do pozostania w serwisie.
Gry w Lemon Casino Internetowe są tak samo wysokiej jakości jak i różnorodne, więc gracze są w dobrych rękach. Jeśli lubisz sloty, gry stołowe i video pokery, ale chcesz spróbować także egzotycznych tytułów, z pewnością docenisz czas spędzony tutaj. Najlepiej zacząć grać w te gry za darmo, ponieważ wszystkie oferowane są w formacie demo. Kasyno udostępnia wirtualną walutę na czas nieokreślony, więc nawet jeśli Ci się ona skończy, zostanie uzupełniona, abyś mógł kontynuować swoją przygodę z grą.
Lemon Casino współpracuje z wiodącymi producentami oprogramowania i to właśnie dzięki temu jego portfolio może rozwijać się w tak szybkim tempie. Większość ich partnerów specjalizuje się w automatach do gry, więc jest to dominujący gatunek gier, a do wyboru są setki tytułów. Klasyczne gry mają swoje specjalne miejsce w ofercie, ale większość slotów ma pięć bębnów, nowoczesne motywy i unikalną mechanikę gry. Oczekuje się, że ich gry będą zachwycać nowoczesnością, a jednocześnie zachowają zapach autentycznych gier kasynowych.
Nawigacja na ich platformie jest bardzo prosta, a gracze mają do dyspozycji kilka sekcji, w których mogą zapoznać się z bogatym portfolio. Możesz je przejrzeć w sekcji z najlepszymi grami lub zapoznać się z najnowszymi grami. Fani gier owocowych mają swoją sekcję poświęconą takim klasycznym slotom, podczas gdy na przeciwległym końcu spektrum mamy sloty Megaways™. Informacje o średnim zwrocie dla graczy, sposobach na wygraną i rundach bonusowych można znaleźć obok bębnów, dzięki czemu gracze mogą podjąć świadomą decyzję.